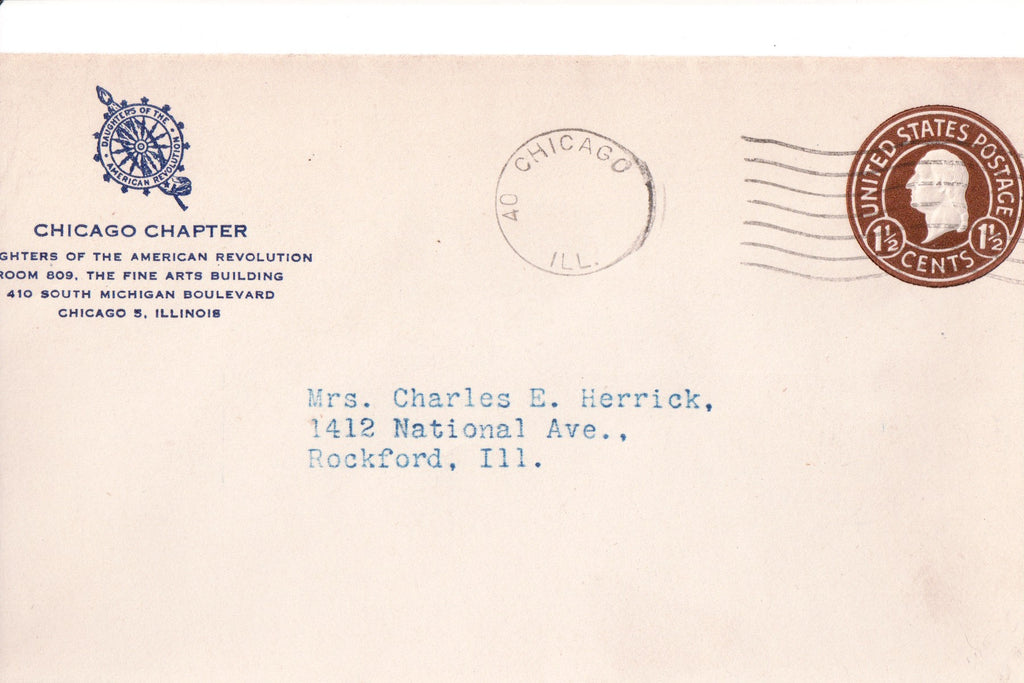 IL, Chicago - Daughters of the American Revolution, Chicago - B17069
---
ILLINOIS postcard - Chicago, IL
 This is an old, empty envelope from Chicago Chapter of the Daughters of the American Revolution - Room 809 - the Fine Arts Building / 410 South Michigan Boulevard / Chicago 5, Illinois with a US Postage Pre-stamped envelope that has a 1 1/2 cent on it.  The Postal Stationery envelope has a brown and white stamp area.  The postmark is for Chicago, Ill and has a 40 in the circle area - but noting else, so am not sure if that is to depict 1940 or something else.
Addressed to Mrs Charles E Herrick
 

Please note that the majority of the cards are over 50 years old and as such, are sold AS IS. Tears will be noted but it would be too timely to note each fault on every card.  If condition is important to you - contact us with our number in the title & what it is that you would like to know or what it is that you would like pictured more closely.

Again, because of the age of the cards - they are noted as being USED - no matter if they are written on or not.
---
Share this Product